TypeTown #13: "Don't worry, typewriters will survive."
📸 Documentary photography, contemporary realism, Jack Higgins, Marguerite Higgins, and more...
[Welcome to TypeTown, a fortnightly newsletter celebrating the typewriter's place in modern (and not so modern) culture. Click here to subscribe.]
Morning all.
Lovely to see you again.
Ten years ago, TypeTown headed off for a month in India. For those who haven't been, the cliches are true. Colour, vibrance — and a constant explosion of life.
In contrast, there isn't much colour in this project from Bangalore documentary photographer Arindam Thokder. But his work in capturing the role of typewriters in Indian courts is packed full of insight, emotion, and fascination.
Inspired by a conversation with his seven-year-old daughter, Thokder's journey to discover the modern life of typewriters took him to the heart of India's judiciary system.
The resulting body of work is something all TypeTowners will enjoy.
"Bijon was curious to know why I was taking pictures of the typewriters. I said I was anxious that these machines might get extinct soon. He laughed and dismissed my concern, 'Don't worry, typewriters will survive.'"
READ» Vintage Typewriters: Lifelife of Indian Courts - Sahapedia (23 images)
READ» Holding Court: Why Typewriters Continue to be Relevant in the Indian Judiciary - The Caravan
VIEW» Arindam Thokder portfolio - Flickr
---
Wendy's house of treasures
Sticking with the visual arts, Wendy Chidester's contemporary realism has produced a collection of stunning typewriter images.
"In her gorgeous photo-realistic still-lifes, American oil painter Wendy Chidester pays homage to lost relics of the past. Artifacts ... are represented nostalgically in her work. She frames these objects as icons, memorializing the color and ingenuity of the past."
If you're looking for something to brighten up the office, this Remington 12 is yours for $3,500 from California's CODA Gallery.
READ» Wendy Chidester profile - Morton Contemporary Gallery
---
❤️ Enjoying this?
✉️ Forward to a friend and suggest they might subscribe.
☕️ Say thanks with a coffee.
🗣 Anything else? Hit reply and say hello.
---
This one soared
There's sad news from the world of fiction with the passing of novelist Harry Patterson — best known for his pseudonym Jack Higgins, under which he wrote The Eagle Has Landed during a remarkable career lasting more than half a century.
While Higgins didn't use the typewriter for many of his novels, preferring instead a longhand approach, it was pivotal in his decision to commit to a full-time approach to his writing.
"I had a portable typewriter with me, wrote my letter of resignation (to the university) at midnight and went out in the rain to post it so I couldn't change my mind."
"My wife and I had four children, and I was writing at night. But there was a problem: the typewriter could be heard throughout the house, and disturbed the children's sleep. I decided the best way to improve the situation was to not use a typewriter, but to write by hand. I'm still doing that to this day."
RIP Harry.
READ» 'The Eagle Has Landed' author Jack Higgins dies at 92 - NBC News
READ» "Rain on the Dead:" A Talk With Jack Higgins - Huffington Post
READ» Book Talk: Thriller writer Jack Higgins marks 50 years - Reuters
READ» Jack Higgins: Success no longer enough - UPI
---
Remembering Marguerite
This week we also stumbled on the story of another Higgins — Marguerite, a woman described in some reports as the world's most famous journalist during the 1950s.
She was the first female winner of the Pulitzer Prize for International Reporting, awarded in 1951 for her coverage of the Korean War. This image, taken in July 1950, shows Higgins in the middle of that work, adjusting her helmet in Korea while a Hermes Baby portable rests on her lap.
She'd shown remarkable courage from the start of her career, landing her first job in New York simply by conning the secretaries at the Herald-Tribune with an outward sense of purpose.
"Higgins got off the elevator and with an 'air of confidence' strolled right past the desk into the city room. She was absolutely in shock. Her plan worked. As she was gawking around the room, she was in awe. She had 'never seen so many typewriters in one place or been in such a relentlessly brightly lit room.'"
READ» Higgins, Marguerite (1920-1966) - Encyclopedia.com
READ» Marguerite Higgins: Making War Accessible to the Masses - Eastern Washington University
READ» Marguerite Higgins: 1920 - 1966 - No Job For A Woman
---
Worth pausing the platen
📬 Short takes: Performance artist visits Nebraska to retype Cather novels - Omaha World-Herald
📬 My Grandfather's Typewriter Reminds Me To Carry On - Medium
📬 Camas teen turns love for typewriters into a business - KGW8
📬 Who invented the Arabic typewriter (keyboard)? - Arabic for Nerds
---
And finally… typewriters in the wild
In the publicity shots for Julia, HBO's new drama about American cooking teacher Julia Child…
In this emotional moment from poet William Davis…
And in this magnificent new creation from typewriter sculptor Jeremy Mayer…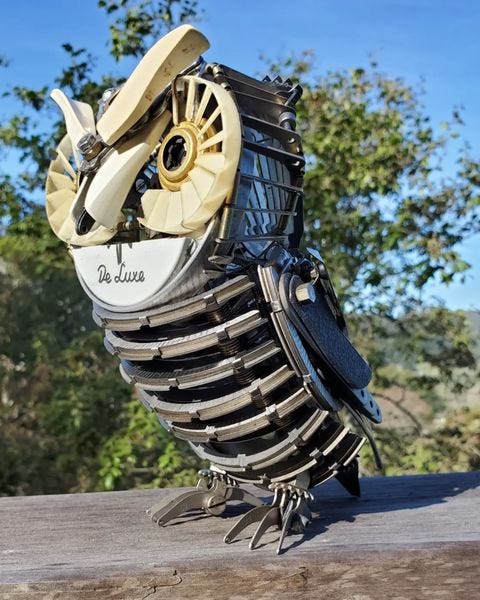 ---
TypeTown… brought to you by caffeine
If TypeTown brightens your week, donations to our Earl Grey fund are hugely appreciated (especially when a deadline's approaching).
---
Please share the love
Alternatively, please take a second to ❤️ and comment below — or share this post to your social networks, neighbours, grannies or anyone else who might like it. Whatever you do to spread the word, I promise it never goes unnoticed. Thank you!
---
Until next time
---
PS: New here?
TypeTown is a fortnightly celebration of the typewriter's place in modern (and not so modern) culture.