TypeTown #27: "I like to bang the keys."
🕶 Elmore Leonard, Albert Pierrepoint, Emily Post, Harry Worth, and more...
[Welcome to TypeTown, a fortnightly newsletter celebrating the typewriter's place in history and modern culture. Click here to subscribe.]
Welcome back, amigos — and apologies for our recent absence.
You can blame a rather spectacular bout of food poisoning.
But a few days on and here we are, head up, back straight, and eating again without worrying about the consequences.
So let's dive back in…
We start with Elmore Leonard, copywriter turned novelist, short story writer, and screenwriter — and definitely an analog guy.
"I write longhand, then I put whatever I've written — a few pages at a time — on the typewriter as I go along. Or maybe just a single paragraph, to see what it looks like. That's essentially why I type it up, to see what it looks like."
While the typewriter came second in his process, he still had his preferences.
"It took me 20 years to buy an electric typewriter, because I was afraid it would be too sensitive. I like to bang the keys. I'm doing action stories, so that's the way I like to do it."
For Leonard, writing wasn't a romantic daydream. He was a man with a clear commercial focus.
Get Shorty, Out of Sight and Rum Punch are just three of 26 of his novels and short stories that were adapted for the screen.
"Any writer is a fool if he doesn't do it for money."
Labelled the "Dickens of Detroit", his work was gritty, strong, and stark.
In 2007, he published 10 Rules of Writing. The last is key.
"Try to leave out the part that readers tend to skip."
READ» How I Write: Elmore Leonard - GQ
READ» This much I know: Elmore Leonard - The Guardian
READ» For Elmore Leonard, Crime Pays - Rolling Stone
---
❤️ Enjoying this?
✉️ Forward to a friend and suggest they might subscribe.
☕️ Say thanks with a coffee.
🗣 Anything else? Hit reply and say hello.
---
A trusted professional
Take a look at this genial gent writing his memoirs in northern England back in 1973.
For those of us from the same part of the world, it looks exactly the kind of setting in which we'd remember our own grandparents.
But not many of us have grandparents like this.
This is Albert Pierrepoint, one of the UK's most prolific and efficient executioners.
Between 1931 and 1956, Pierrepoint hanged somewhere in the region of 450 people.
The process was swift. Entering the condemned's cell at 8am, Pierrepoint would tie their hands behind their back, walk them to the execution chamber, place a hood and noose over their head, and break their neck in such a way that caused instant death. The whole process, from Pierrepoint entering the cell to the prisoner being dead, took just 12 seconds.
Despite — or perhaps because of — his experience, he remained unconvinced of the effectiveness of capital punishment.
"I have to come to the conclusion that executions solve nothing…"
His full story was powerfully portrayed by Timothy Spall in 2005.
---
Post production
After that rather wild detour, we gather our wits with this splendid 1927 portrait of Emily Post (1872-1960).
She wrote five novels between 1904 and 1910, but it was her 1922 book Etiquette that became a best-seller and made her name.
Her insight was remarkably prescient, even 95 years ago.
"Why a man, because he has millions, should assume they confer omniscience in all branches of knowledge, is something which may be left to the psychologist to answer."
READ» The Surprising Lesson About American History Hidden in Emily Post's Classic Etiquette - TIME
---
Worth pausing the platen
📬 Antiques: Embracing an old type of writers - The Desert Sun
📬 Strangers inspire typewritten poems - CBS4Indy
📬 Discover Friedrich Nietzsche's Typewriter, the Curious "Malling-Hansen Writing Ball" (Circa 1881) - Open Culture
📬 His first typewriter, badminton trophies: Room of Wee Kim Wee's belongings to open to public in 2023 - The Straits Times
📬 Uni professor bans laptops so student brings typewriter - all class can hear is 'ding' - The Daily Star
---
And finally… typewriters in the wild
In this wonderful image of the crowd at the 2017 Tour de Yorkshire cycling race…
In another incredible tattoo, this time on Iron Fox Typewriters chief Ian J. McAndrew…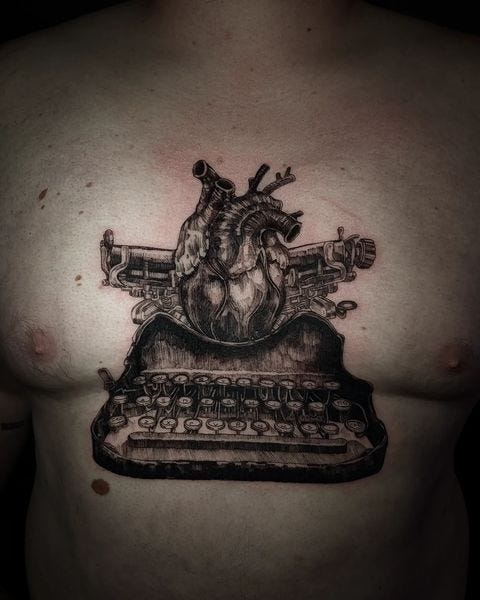 And in this old sketch from British comedian Harry Worth…
---
Muchas gracias, amigos
Thanks for sticking with us. Your support keeps TypeTown going. If you want to go further, donations to our caffeine fund are always appreciated.
---
Until next time
---
PS: New here?
TypeTown is a fortnightly celebration of the typewriter's place in modern (and not so modern) culture.